Saudi Arabian Crown Prince Mohammad bin Salman responded publicly to President Donald Trump's recent spate of Tweets and statements concerning oil. While the President has been asking for Saudi Arabia to increase oil production to flood the market and keep prices down, the prince said no. This is a risk for Saudi Arabia, because Saudi Arabia has always depended a great deal on the United States –even its currency is pegged directly to the U.S. dollar–and the Trump administration has shown that it will take a hard stance on economic issues even with its closest allies.
This week, oil prices reached highs not seen in four years. The international benchmark, Brent, hit $86 per barrel and the U.S. benchmark, WTI jumped to over $76 per barrel. U.S. President Donald Trump has been unrelenting in his public and private pressure on OPEC and Saudi Arabia to produce more oil and lower prices. After all, from his perspective, the increase in prices is a result of his new sanctions against Iran – which Saudi Arabia fully supports – and therefore, Saudi Arabia should deploy its spare capacity to ensure that American consumers don't face undo pain at the pump.
Saudi Arabian oil minister Khalid al Falih tried to reassure markets that Saudi Arabia would increase production but that the market is actually very well supplied. The 9% increase in oil prices over the past 3 months, he said, is the fault of financial speculators, not a lack of supply. He's right, but the market and the speculators didn't believe him.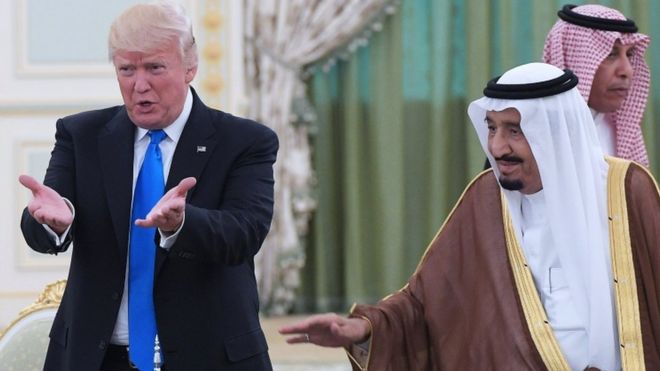 Read Also:     I was an Isis sex slave. I tell my story because it is the best weapon I have Nadia Murad
That wasn't what the Trump administration wanted to hear, so the President ratcheted up his war of words during a rally in Mississippi. He delivered a low level threat to Saudi Arabia's King Salman when he said the following:We protect Saudi Arabia. Would you say they're rich? And I love the King … King Salman but I said 'King, we're protecting you. You might not be there for two weeks without us. You have to pay for your military.
Here is the video of their discussion 
Here is another video