As we know Mehendra singh dhoni have been the best player and the india greatest captain in history as well remembering his records in indian cricket history will be always in our hearts. some memories are costless like here we are going to show some pictures of mehendra singh dhoni with four most popular players of indian cricket team.  These pictures were taken on different dates in different matches in different countries like one picture was taken in aurstralia when indian crashed australia in ODI 2013 and another picture was taken in england when india crashed england in T20 match. well lets move to the pictures of our heroes with Mehendra singh dhoni.
Read Also:  MS Dhoni viral record in ODI & in T20 Matches
This picture was taken in india after crashing england in ODI. it is really a rare picture of Mehendra singh dhoni and Yvuraj singh. some people on social media say it was taken in england but no it was taken in india.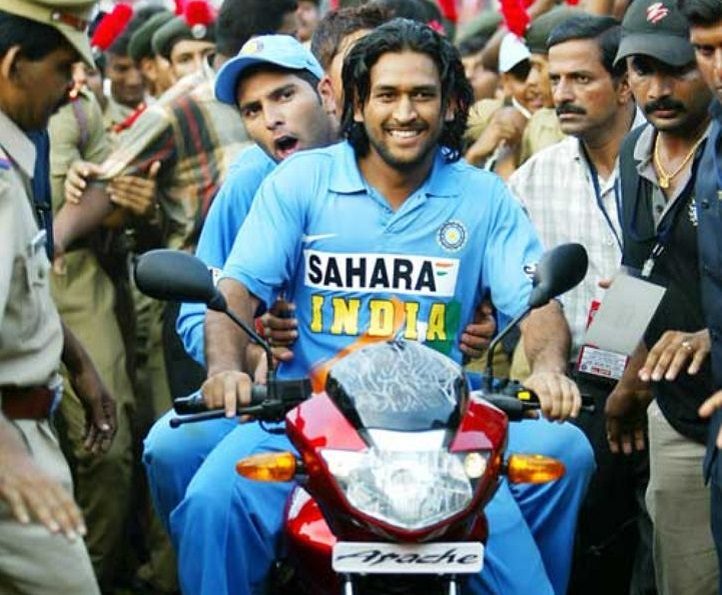 This picture was taken in england after crashing england cricket team in ODI match. MS dhoni was rounding in ground and if you look at the mid player he is fingering the rest of team. that was  really a funny moment when MS Dhoni was riding them to bike and giving them drive in ground.
Read Also:   Viral records of these three indian legends in cricket sport but MS Dhoni is the greatest among them
Here is another rare picture of Mehendra singh dhoni and this picture is really really rare. maybe you have not seen it yet because i do share daily mehendra singh dhoni pictures in groups but yet i did not see this pictures on facebook, instagram, twitter or google plus. but today i saw it on flicker and thought to share with you guys. but please share it with your friend if you find it rare and unique.
Here is another picture of MS Dhoni with indian player. it was taken in delhi airport i think.
Read Also:  MS Dhoni Catch Drops & Virat laughing & there is a loving secret for dropping this catch ?