It does not happen every time that a fielder drops a catch and the skipper ends up laughing because of it rather than scolding or giving the fielder a stare. But it happened during the India vs Bangladesh warm-up match as MS Dhoni made a mess of a simple catch of Taskin Ahmed in an attempt to slog Hardik Pandya's delivery. The ball took a thick edge and went straight up in the air towards the square of the wicket. However, Dhoni, then completely misjudged the trajectory of the ball and the ball ended up on the ground instead of Dhoni's usual safe hands.
Read Also:   Dhoni first love why lost and what was the biggest reason for that
Skipper Virat Kohli then showed the lighter side of it and could not stop laughing. Despite the chance being dropped, there were all smiles on the field. Both the teammates had a big smile on their face post that drop. Dhoni who usually keeps the wickets was seen without wicket-keeping gloves as Dinesh Karthik was doing his job. Dhoni had a role reversal not only on the wicket-keeping front but other aspects as well. Dhoni did not came to bat as he and Kohli gave others a chance to get used to the English conditions before the Champions Trophy game against Pakistan.
Read Also:   Dhoni loving his wife sakshi dhoni in his yard video
Interestingly, despite Virat and MSD not coming into bat, India posted a mammoth of 324 for 7 which turned out to be too good for Bangladesh who were bundled out for just 84 runs and 157 balls to spare. India will go into the India vs Pakistan clash on June 4 with confidence.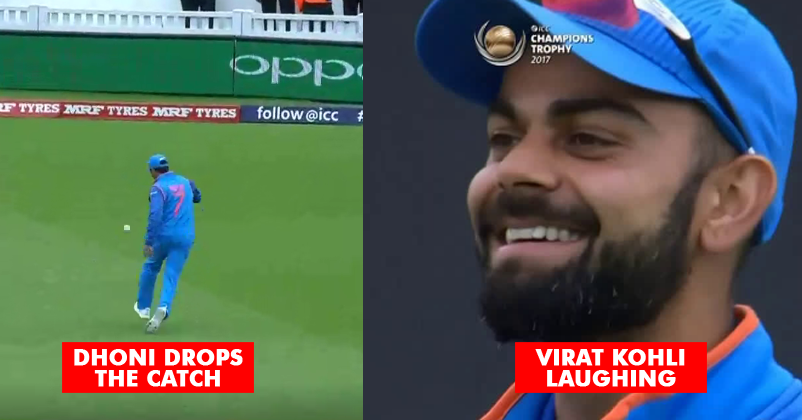 Read Also:   Doting daddy: MS Dhoni proud of daughter Ziva's 'unique character'